How does "Art of English" work?
The "Art of English" uses a "new" language arts technique based on three little verbs: Model, Practice, Enrich.
---
What makes "Art of English" different?
It provides natural connections for the students: Models of art, music, poetry, drama and historic writings to vocabulary, grammar, reading, writing and pronunciation.
Historical perspectives from primary sources to contemporary events and viewpoints.
It views language as a socializing process, not a fill in the blanks formula.
As students "experience" America's past, they are better able to understand its people and their ways. Learning through the arts makes it easier to connect their new culture to their own.
Remember how you learned your native language from your first teachers, your parents?
They modeled by naming a person (mama, dada) place (car) or thing (cookie).
You practiced by repeating the word until you "got it right". Sometimes it took lots of different ways to practice in order to "get it right".
If you were lucky, your parents teachers had the time and enthusiasm to enrich your newly acquired language by telling stories, singing songs, encouraging you to communicate your feelings. That's how it happens here.
These culture-arts based activities combined with the model, practice, enrich technique engage our senses and evoke feelings. We all need to feel a part of our learning.
When you are fully engaged in something, you lose self-consciousness, you stop holding back: positive feelings increase, confidence builds.
The more positive the feelings, the more the desire to express yourself. The more desire to express yourself, the more communication skills increase.
And so it goes: confidence shows, your language grows.
About Camille Linen
"Art isn't just music and art and theater. It is everything that expresses one's humanity, man's basic nature. Even talking and listening are art." – Camille Linen
---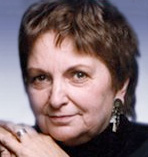 Camille's career in education has extended from the classroom to the board room and back again. She believes strongly in Howard Gardner's philosophy that "Artistic learning should be carried out over a significant period of time and allow ample opportunity for feedback, discussion and reflection. The arts are deeply personal…where students encounter their own feelings." Her whole career in teaching has been dedicated to promoting the arts within the entire educational spectrum from Kindergarten to Adult Literacy.
Mornings, Camille is an ESL instructor for BOCES' (Board of Cooperative Education Services) Adult Literacy program at the Carver Center in Port Chester, N.Y. She has been teaching new immigrants our wonderfully complex language through the arts, history and culture of the U.S. for 15 years. The Art of English, which is a series of units on this website, was created out of the most successful and popular lessons she has taught hundreds of students from all over the world. Camille had started the same educational program she now teaches for BOCES before it was taken over by the state organization.
Afternoons, Camille is the education director for the Port Chester Council for the Arts. As co-founder of the organization, she initiated community arts-based programs for children and seniors at seven elementary schools and at community, church and senior centers. She keeps her community ties by teaching a theater workshop at the Rye Brook Senior Center.
Camille is also the Literacy through the Arts coordinator for Port Chester school district elementary school students K-5. The program was awarded a NYSCA grant for outstanding and innovative arts-programming the second year after its inception. Like The Art of English curriculum, Literacy through the Arts connects NYS standards in ELA, Social Studies and the Arts to a comprehensive visual and performing arts instructional program taught by professional artists. This program gives steady employment to 12-15 professional artists annually.
As a respected community leader, she was elected to the Port Chester District #4 Board of Education for two terms and served as its president twice, was named Community Service Leader in Port Chester, was honored as one of "20 women making history in the arts" by the Westchester Arts Council and was named "Outstanding Teacher 2003" by the NYS Adult Educators.
A graduate of Marymount and Iona Colleges, Camille Linen has written and published curricula for NYS for Adult Literacy and was published by Interact. She is the mother of three daughters and the grandmother of two granddaughters and three grandsons. She is married to actor, singer, storyteller Lou Del Bianco who has collaborated with her on many arts-in-education projects.
Excerpts from Camille's speech on her approach to teaching:
---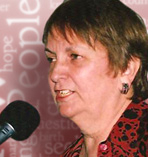 The arts help us understand who we were, who we are and who we will be.
To speak, listen, write and read well in any language is to participate in an art form, language arts, the most powerful one of all.
The teacher or "maestra", which I love to be called, plays many roles in this artistic interaction.
My primary role as "maestra" is to provide the models…models that inspire, motivate and engage… models that students can enjoy.
Listening to the soundtrack from the movie E.T., evokes common images. Students then express them in different ways: speaking, writing. As students share their spoken, written images with others, they connect with those who have been inspired by the same model.
A feeling of community is established.
When I take on the more complex role of editor/mentor, a different classroom dynamic emerges. When adult learners make mistakes, they feel exposed and vulnerable. An embarrassing mistake is the last thing they want to share, but everyone knows if you don't make a mistake, you don't learn.
Working through the arts helps promote a "we're all in this together" feeling. Students are more willing to take chances, practice different ways to express themselves. Students also practice sharing their mistakes on the neutral ground the arts provide for all ages and cultures.
Finally, there's my role as "the enricher". When students read an original 
poem or story, take part in an animated improvisation, use new vocabulary in effective ways, the whole class celebrates. We applaud for each other. Success inspires success. They want more. As much as I can, I provide more thereby enriching their lives and their language.
I believe using the arts to teach a second language is the most effective and engaging way to level the playing field, invite a freedom of response and connect others to our culture. The arts help us learn because the arts themselves express and communicate.
Awards and Reviews
---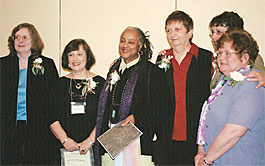 Camille Linen (third from right) with fellow award winners.
Outstanding Teacher Award:
NYACCE 2003
Nominated by BOCES Adult Literacy administrators Maria Morgan, Kevin Dooner and Beneatha Lyle.
View Letter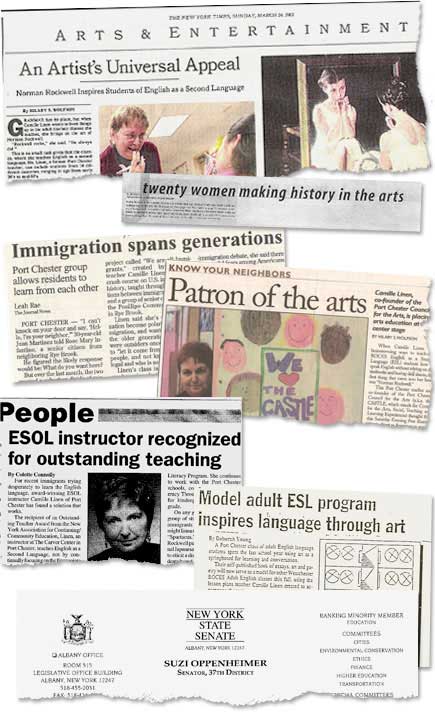 Scenes from "Dream America"
---
Scenes from Dream America, an original musical written by members of Camille Linen's ESL class at BOCES Carver Center site.
It was performed throughout Westchester County in Fall, 2001. Inspired by the illustrations of Norman Rockwell.
Dream America involved 25+ students from 10 different countries. Professional composer Donna Cribari collaborated with original songs to complement the students' libretto.